Your Opinion on Arunachal Budget 2020-2021.
The State Assembly passed the Budget for the financial year 2020-21 by a voice vote, followed by a marathon discussion in the Arunachal Pradesh Budget Session, held from 2nd March ...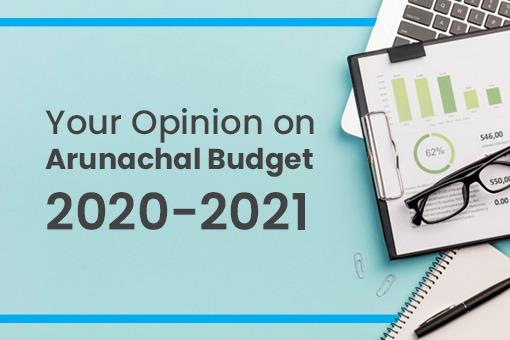 The State Assembly passed the Budget for the financial year 2020-21 by a voice vote, followed by a marathon discussion in the Arunachal Pradesh Budget Session, held from 2nd March to 5th March.


Hon'ble Deputy Chief Minister of Arunachal Pradesh who is also the Minister-in-charge of Finance, Shri Chowna Mein presented a deficit budget of Rs.731.40 crore for the fiscal year 2020-21, covering almost all the essential sectors. .


The Budget presented in the session emphasized on various sectors with major thrust on education, agriculture and allied sectors, health, sports, women empowerment, and infrastructure development. .


Budget 2020 highlights.


Following are few of the highlights presented in the State Budget 2020: .


Agriculture: The Budget this year, focuses on three goals for the development of agriculture and allied sectors such as intensive agriculture for achieving high growth by raising productivity, horizontal and vertical expansion of cropping system by focusing on small & marginal farmers and women besides sustainability of agriculture with crop diversification including livestock and fishery development.


The budget proposed an allocation of Rs 18 crore with an aim to cover 60,000 farmer families in the State. Under this, the budget offers a top-up of Rs 3,000 per year in terms of farm inputs to each farmer family which registers on PM KISAN Portal, in addition to the annual income support of Rs 6,000 provided by the Centre under PM Kisan Yojana .


Health: The budget under this sector proposed to allocate Rs 24 crore for up-gradation of five zonal hospitals at Aalo, Tezu, Khonsa, Bomdila and Ziro.


Sports: the budget proposed to allocate Rs.3 crore for hiring sports coaches in 100 senior secondary schools to train sports talent with the aim of achieving Olympic gold medals in the coming year. .


Education: under this sector, the proposed allocation of Rs 30 crore for the Education Department, aims to set-up one higher secondary school in each district. A one-time financial help amounting up to Rs 2 lakh has been extended to APST candidates to encourage the students to prepare for various central competitive examinations. For this purpose, the budget proposed to earmark Rs 1 crore for UPSC coaching for APST candidates. .


The budget also proposed to continue with the Chief Minister's Samast Shiksha Yojana with an allocation of Rs 40 crore in the coming financial year. .


Energy: the budget formulated to allocate Rs.20 crore, to ensure that all 128 small, mini, micro-hydropower projects are able to feed the power to the grid, and for the construction of evacuation lines for such projects.


Gender Empowerment, Development of Children & Curbing Drug Abuse: Under this sector, the presented budget proposed to allocate Rs 2.5 crore to set up an Anti-Narcotics Task Force in the Police Department for effective enforcement against spread and abuse of drugs.


This year, for the first time, a separate and unprecedented Child budget was presented in the State Assembly ensuring reach and support to every targeted group. The child-specific expenditure includes programmes or interventions that are 100 per cent child-related and that which exclusively targets child in the age group of 0-18 years. It includes finance for early childhood care and education, primary and secondary education, child health and nutrition schemes, child care and protection, juvenile justice targeting children of different vulnerable communities.


MyGov Arunachal Pradesh invites you to share your valuable opinion on Arunachal Budget 2020-21, and also comment on which sectors you want the Government of Arunachal Pradesh to focus on the coming year.